Pink and fruity novelty!
Blossa Rosé - made of refreshing rosé wine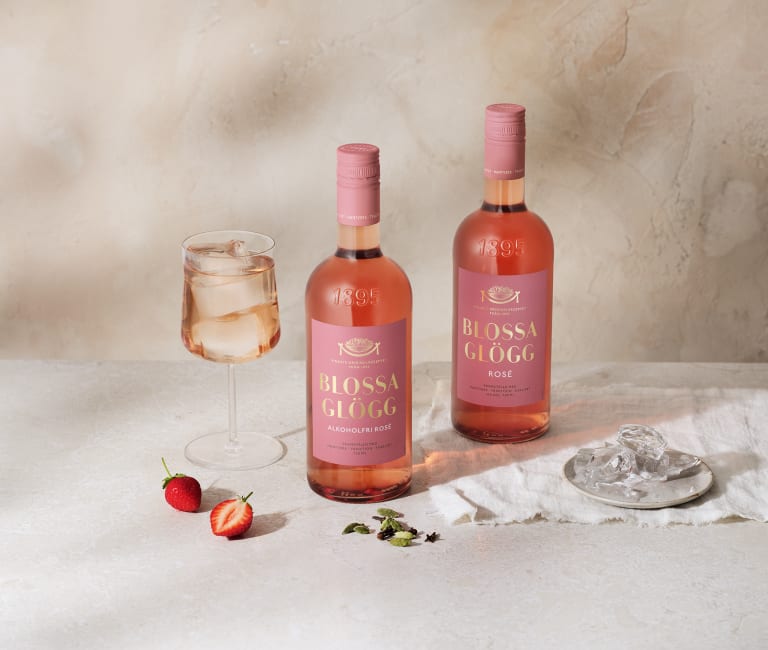 This year, a rosé wine appears on glögg shelves with the release of the new Blossa Rosé in a ten percent and an alcohol-free version. For the first time ever, Blossa's legendary spice blend is mixed with a rosé wine, which compared to a classic Blossa gives a more refreshing profile that is also drier in taste. In Blossa Rosé, strawberry and cranberry have also been added, which gives a more fruity character.
With quality, craftsmanship and tradition as a starting point, Blossa has in recent years expanded its range with products such as Blossa Sparkling to be able to offer a glögg for every occasion and taste preference. Blossa Rosé becomes a fresh and modern new member of the family that opens up new traditions and even more ways to enjoy Blossa. It's also a product that can extend both the glögg and rosé season for those who simply can't get enough.
Try Blossa Rosé warm the classic glögg way, but it is even better served cold in a wine glass filled with ice. Salty marcona almonds and fresh figs works deliciously well as pairings.
All our Blossa Glöggs are made from wine from carefully selected European vineyards, including Blossa Rosé, which is made from rosé wine from Spain. It has a slightly drier taste than the regular Blossa and fruitier as we have added strawberry and cranberry. In the aroma and taste you will of course also find the characteristic Blossa flavors cloves, cardamom and ginger.